third-party reviews websites, blogs, and other digital platforms, maintaining a solid online reputation is necessary for every business. In the buyback realm several factors can help to keep a positive word of mouth such as:
Accurate and objective diagnostics (helps to keep quoted price same as final paid price)
Quick payments after device condition verification
Offer complete order visibility
Provide evidence in case of conflicts, for example photos of the received device.
5.DATA SECURITY CONCERNS Mobile devices store a considerable amount of sensitive data including business and personal information. While most users think that performing a factory reset wipes all data from the device, unfortunately, it still leaves data hidden in there, which can be retrieved from most of the factory-reset smartphones using commercially available recovery software and lead to data breaches. To safeguard themselves of legal complications involved, buyback businesses that deal with hundreds of devices every day, require industrial data wiping solutions certified by reputed agencies like ADISA.
6.LOCKED, BLOCKED AND STOLEN DEVICES iCloud, Google, passcode lock, financed, blacklisted, fake IMEIs, jailbroken or rooted devices can be just a few examples of phones you end up bringing in to your business if your buyback solution isn't composed of extensive security features and processes to deter the purchase of any such device. These devices are a total loss to the business and can only be salvaged for parts. To protect your investments and provide frictionless customer experience, your approach to prevent flagged devices from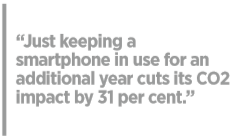 entering the business stream must be holistic and proactive. This means getting the right solutions in place that can detect such devices automatically and approve or decline transactions at scale, leaving a very small percentage that require manual review.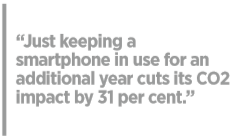 7.UNAUTHORISED REPAIRS AND NON-OEM SPARE PARTS Demand for cheaper, more accessible repairs has led to a thriving independent repair community and a huge market for unofficial, aftermarket parts that's entirely unregulated. While OEM parts are expensive, cheaper substitutes are of low quality. Devices with non-OEM parts have significantly low resale value as compared to devices with OEM parts. This very recently led to slashed tradein prices for iPhone upgraders by as much as 17 per cent mid-cycle. Apple's buyback provider found a lot of devices that had original Apple parts harvested and replaced with third party parts causing an irrecoverable loss to the business. Ever than before, buyback businesses require robust solutions that can detect these cheap substitute for OEM parts fitted in traded devices and control the losses. This unfortunately doesn't have any automated solution which can work quickly without dismantling the device. However some companies are working to create products that can handle these so hopefully in future we may have a solution.